Preservation Services
While most businesses utilize only wood boxing or crating for their shipping needs, MacPack specializes two, effective, low-cost, alternative packing methods: heat shrink and foil wrapping.
Custom Heat-Shrink Preservation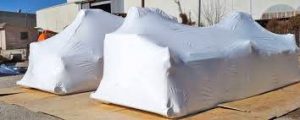 We impregnate a polyethelyne film with a Vapor Corrosion Inhibitor (VCI) and then heat-shrink your equipment with this film. This process provides a superior protective barrier for machinery, electronics, and other sensitive materials that need to be thoroughly shielded from potential moisture damage.
If you need to move a perishable shipment that must be protected from moisture, MacPack offers innovative heat-shrink preservation services that will be customized to meet the needs of your goods. Our heat-shrink barrier technology seals machinery and electronic equipment with desiccants (i.e. drying agents) that will protect your goods from moisture, preventing both damage and corrosion.
We provide custom heat-shrink preservation services to clients throughout Maryland, Washington, D.C., and Virginia and the process can be used for both domestic and international shipments. No matter how large or bulky your items will be, we can handle shipments of any dimensions and scope.
This packing solution is especially economical for airfreight because it restricts the overall dimensions and weight of your shipment, thus reducing your overall transportation costs! Our custom heat-shrink preservation services provide a wide range of features and benefits, including:
Any size piece of equipment can be covered
Prevents rust, corrosion, salt water damage
Prevents wind damage without the expense of tarping
Can eliminate moisture for long periods of time
Unlike crating, adds very little weight to your shipment
Protection for unusually large items
Equipment longevity = future savings
Cost effective
Reduced shipping costs
Foil Wrapping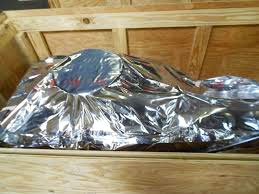 Similarly, has the attributes of heat shrink, but provides the additional benefit of complying with specified military specifications (mil-spec). This is particularly helpful to our military and government agency clientele.
Both methods are especially economical for airfreight, restricting the overall dimensions and weight, thus reducing your transportation costs!
No matter what type of equipment or goods you need to protect, our preservation services are a cost-effective way to ensure that your items will make it to their final destination safely and intact. Our personnel are highly trained and certified and will go above and beyond to ensure that your goods are carefully preserved and ready to handle their journey.
Want to learn more about how our custom preservation services can benefit your business and make your shipping logistics easier to handle? Get in touch with MacPack today! Give us a call or send us an email to find out more about our comprehensive packing and crating services.